Dental Implants Londonderry
Dental implants have been around since the 1970's, but they've risen to the forefront of modern dental treatments this past decade.
Improved manufacturing technology, routine use of in-office CBCT scan imaging, and advanced surgical and restorative techniques have made implant placement the standard of care for many treatment situations.
To achieve favorable outcomes and optimal oral health, their use must be integrated with an overall treatment plan.
Dr. Geick has completed thousands of hours of continuing education with a strong focus on dental implants.
He creates an overall restorative treatment plan ideally suited for each of his patients and works with some of the most talented oral surgeons in the area.
This ensures the implants are placed with the utmost skill and then restored with satisfying and long-lasting results.
There are several reasons you may be considering implants.
Replacement of a single tooth or several individual teeth.
Replacement of multiple missing teeth.
Replacement of one or both arches of missing or non-restorable teeth.
The securing of a removable denture with increased retention.
Dr. Geick takes great care in his diagnosis and treatment planning to ensure each individual has the best overall plan to achieve their goals. Please check out the illustrations and video links for each of the above situations.
Are You Ready to Restore Your Smile?
Don't settle for missing teeth! Dental implants are natural-looking replacement teeth that can renew your smile. Contact us today to learn more!
Surgical Guide (Cad/Cam)
Bridge versus Implant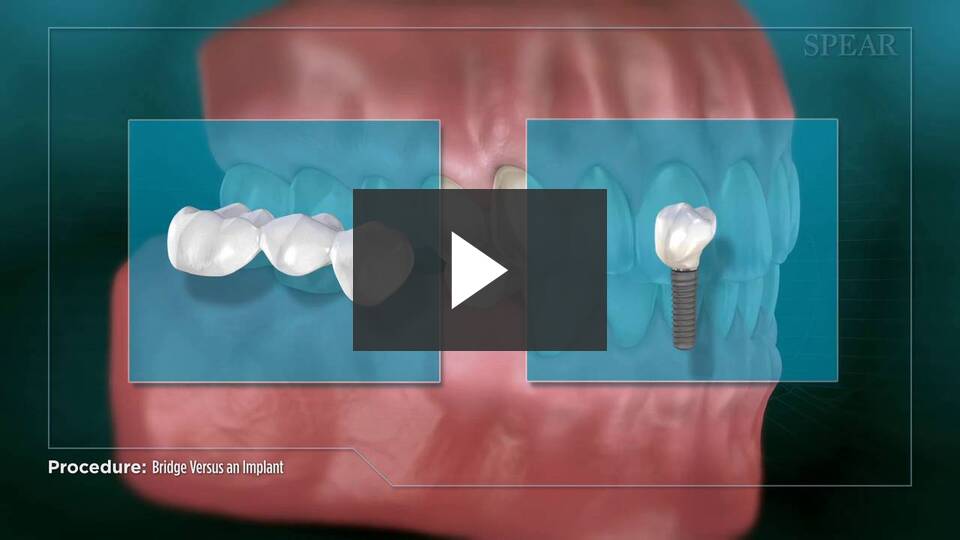 Screw-Retained Implant
(Anterior- Healing Cap)
Screw-Retained Implant
(Posterior- Healing Cap)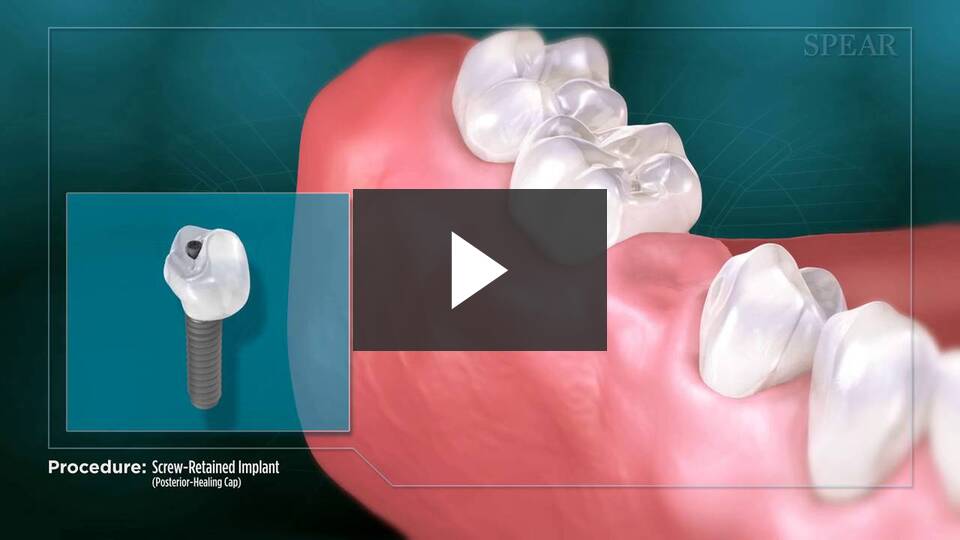 Screw-Retained Implant
(Anterior- Immediate Load)
Implant-Supported Bridge
(Anterior- CAD/CAM)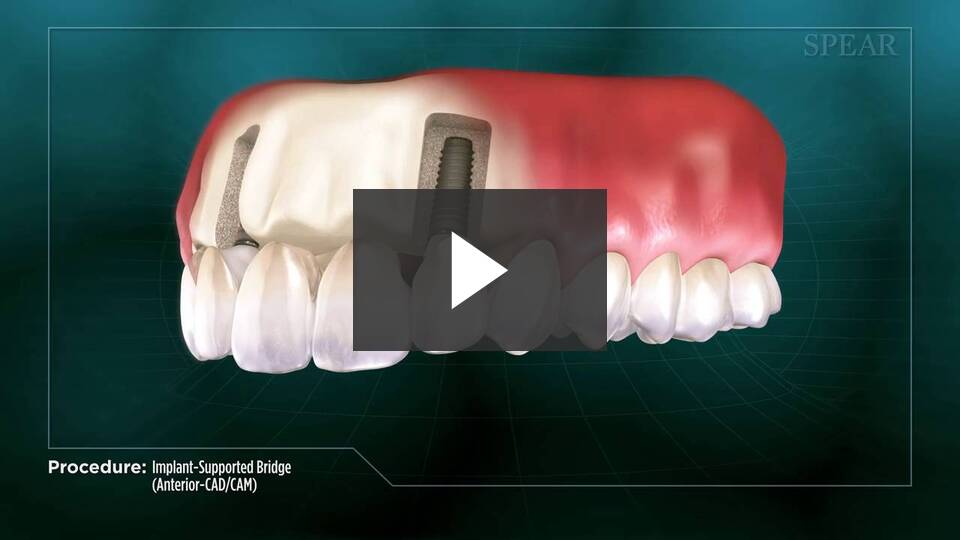 Fixed Hybrid Dentures
Caring for a Hybrid Denture
Locator Retained Overdenture
Dental Implants—Today's Ideal Teeth Replacement Method
Dental implants have become today's preferred restorative and cosmetic solution for missing teeth. They reestablish the way in which teeth feel and work, while creating an esthetic appearance.
Implants are surgical titanium fixtures placed flush in the jawbone. Implant restorations, the final piece that can be seen above the gum line, are the teeth (and cosmetic gum if needed).
Gums frame the teeth and both gum and tooth must be considered with either single or multiple crowns and fixed or removable dentures.
One solution doesn't fit all people, so we encourage you to schedule an appointment with us and find out which dental implant option is an ideal solution for you.
The Process—What to Expect
Examination and Treatment Planning:
We review your medical and dental history and gather intra and extraoral photos, digital impressions of your mouth using our intra-oral scanner, and digital radiographs.
We complete a detailed examination of your teeth, gums, and facial esthetics during the initial phase of the dental implant process to ensure we have a clear picture of your current health.
With that information, we make a plan that strives to meet both your expectations and your health and budgetary goals.
Consultation:
We sit down with you (and in many cases your significant other) to review our findings, answer questions, and present treatment options and estimated fees.
With a clear picture of your possible options, you are referred to our surgical team for further evaluation and consultation.
Surgical evaluation and consultation
Cone Beam Computed Tomography (CBCT)
Dr. Geick works with a number of talented oral surgeons in the area. In-office computer-guided imaging ensures precise and accurate implant placement.
With the initial intraoral computer imaging and scans combined with the surgeon's cone beam computerized tomography (CBCT) scans, we analyze for case design and implant placement.
Safe, optimal, and long-lasting results are our number one goal. The information gathered by our scans is used to:
Evaluate bone and vital structures.
Confirm enough bone exists for implant placement.
Verify the safety of important structure and nerves.
Identify areas that may need bone grafting.
Evaluate the health of the remaining teeth.
Analyze proposed design options.
Evaluate esthetic results.
Finally, Dr. Geick creates a surgical template that is used as a guide to achieve optimal implant placement for the desired restorative result.

Execution of the Plan
The next step in the implant placement process is to extract the tooth or teeth in question. Ideally, the implants are placed at the time of the extractions if sufficient bone is available.
Dr. Geick will have constructed in advance any temporary appliances needed for the surgical visit and healing phase. In the case an extensive bone graft is needed to strengthen the target area, several months of healing is needed before the implant can be placed.
Your surgeon will follow the sedation option you select, and you will be anesthetized for your comfort during surgery. Most of our patients are pleasantly surprised at how little discomfort is involved in the dental implant procedure.
Any minimal post-operative pain can be easily managed with over-the-counter pain medications.
Osseointegration and Final Restoration
After placing the implant, your surgeon covers it with a titanium healing cap and allows it to fuse with the bone over the next 2-3 months or so.
This amazing fusion of titanium to bone is called osseointegration. A temporary appliance will be provided if indicated.
After osseointegration is complete, the final restoration process of idealizing the esthetics of the teeth and gum proceeds.
Unmatched Longevity—Well Worth the Investment
Dental implants can last a lifetime when cared for properly. Consistent oral health habits—brushing, flossing, and use of the water pick—contribute to the unparalleled longevity of dental implants. We go the extra mile to ensure that the dental implants and subsequent restorations last a very long time.
Losing a single tooth, multiple teeth, or all your teeth can negatively affect your oral health and the longevity of the remaining teeth, your overall health, and your confidence and ability to eat. Our skilled and experienced team is here to help. Implants have become the best tooth replacement method because they look and operate much like your natural teeth.
Say good-bye to slipping dentures and those pesky dietary restrictions as we bring restoration to both your smile and your overall well-being. We use our superior implant replacement techniques here in our state-of-the-art facility to ensure you receive the best care possible.
Compassionate, thorough, and exceptional care is our top priority, and we look forward to serving as your dental implant team.
Success Rate and Side Effects
Dental implant placement is an everyday procedure that poses very few risks. With a success rate of up to 98%, this trusted and proven treatment continues to remain the ideal solution for missing teeth while continually making advancements.
The chance of minimal side effects—which is quite low—are like those that might result from any minor surgery: infection, injury to adjacent teeth, etc. Daily implant hygiene, hygiene of the remaining teeth, keeping the remaining teeth in good repair, and avoiding excessive grinding and clenching forces are keys to long term success of implants and implant restorations.
Orthodontics.
If you've got braces, we recommend that you wait to get an implant until after you've completed all straightening procedures. The implant is permanent and impossible to move, so it's crucial it's inserted in the correct place, aligning with your finished orthodontics.
However, it is essential to start planning for the implants and restoration even before you begin the braces process to achieve optimal results.
Cost of Dental Implants in Londonderry, NH
We believe dental implants to be the most affordable option over the long term because they outlast other tooth replacement approaches, such as bridges and dentures, and avoid overstressing and damaging adjacent teeth.
Even though the upfront cost may be more, their longevity makes them the wiser option in the long run. We know that every case and budget is unique, so we are ready to discuss with you our available financing options and your insurance benefits at your consultation.
Book an appointment with us today!
Choose Exceptional Dental Care
Dr. Geick provides general and cosmetic dental treatments to preserve your oral health and renew your smile. Contact us today!